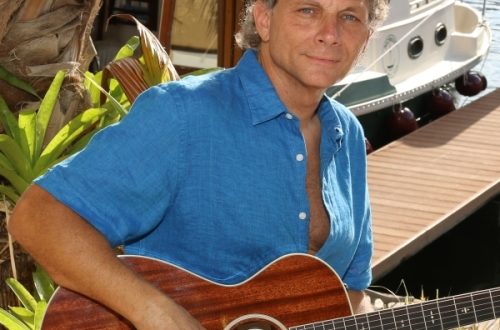 Band Leader, Lead Vocal & Guitar
Singer/guitarist Jimmy Stowe began his music career at the "Surf" Ballroom on Nantasket Beach just outside of Boston. The New England born entertainer was a member of a popular teenage dance band called "Horse" and gained regional recognition headlining special events, high schools and colleges as well as many private affairs. On one such occasion in mid-summer 1973, the group of talented teens appeared with the legendary pop artist "Jim Croce". This early success and experience would set the tone for Jimmy's future endeavors in show business.
After completing studies at the University of Miami he returned to New England and ventured out as a solo performer. From the ski resorts of Vermont to the seaports of Boston and Newport, Jimmy rocked capacity crowds. Influenced by his love of early rock and roll, acoustic pop and country music, he delivered a mixed bag of high energy tunes and intimate ballads. The purity of his vocal impressions and embracing acoustic guitar accompaniment combined to shape a truly engaging song stylist and showman.
Jimmy's love of warm sun and sandy beaches brought him back to South Florida, where he now resides. His extensive list of accomplishments and notable engagements, since his migration, speaks for the depth of his talent. Performances with Rick Nelson and Jimmy Buffett, along with concert tours of Australia and Norway with "Dr. Hook" and his "Tribute to Buddy Holly" oldies show aboard the Norwegian Cruise Line, are a few of his most memorable career experiences.
Today, Jimmy and his band, appropriately named "The Stowaways", enjoy success as a world-class corporate party band. Performing throughout the Southeast, this highly acclaimed musical entity performs at hundreds of major events and affairs each year. From the high profile resorts of Palm Beach to the Conch Republic of Key West, Jimmy Stowe and the Stowaways have secured a reputation of the highest standards for entertainment.
Jimmy has not skipped a beat in his musical career. After recording two CD's for the Sheraton Resorts and a debut single, "Boogie On The Border", this seasoned performer is now taking time to create his own brand of heartfelt American pop music. Inspired by an appreciation for life and recovery, Jimmy Stowe is dedicated to making music and sharing his joy with others on this trip around the sun.
Photo Gallery
Freedom's Friend
Jimmy Stowe sings a heartfelt tribute to Paralyzed Veterans of America.
Read More
Boogie on the Border
They're headin' for the Border trying to get away… Jimmy Stowe's original song, Boogie on the Border, has a positive message for all of us affected by the border ruckus! It's time to tone down the rhetoric and raise up our glasses to the spirit of the good 'ole U.S.A. That's right! It's party time on the Border! Boogie down to the biggest dance floor of them all! Get ready to Boogie on the Border all across the Southwest and beyond!
Read More
Jimmy Stowe tours Australia with Dr. Hook
A combination of talent and experience paid off when Jimmy Stowe had the opportunity to assist the "Dr. Hook" band on a concert tour. As back-up vocalist and rhythm guitarist, Stowe was truly an asset to the band's performances, while capturing the hearts of many new friends and fans with his charismatic stage presence.
Performing song classics such as "Sylvia's Mother", "Cover of the Rolling Stone", "Sexy Eyes", and "Sharing the Night Together", Jimmy drew on his knowledge and love of the early 70's rock sound to enhance and capture that original lighthearted "Dr. Hook" style.
This valuable experience, to Jimmy Stowe's credit, has become another important stepping stone in the ever expanding career of this versatile entertainer.