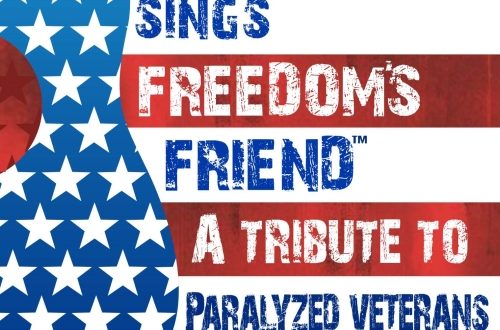 It is a privilege to sing my own song to help support the members of PVA. Their bravery, strength and suffering helped to forge our great nation. Today, we enjoy the freedom to follow our dreams thanks to all those who have served and sacrificed so much. For our paralyzed veterans, the fight goes on…
---
View Lyric
Remember when you needed me
To stand to keep our country free
I didn't need your pity or your praise
If you only knew … how hard I fought for you
Maybe your thoughts of me would change
I wish that we could walk together
Though I'm paralyzed I'm still a man
Don't forget that I'm your brother
I held your freedom in my hands
I'm Freedom's Friend … I was there any time or where you needed me
To stand up for my country – to defend our liberty
I'm Freedom's Friend … in this chair is the heart of a real American
Proud to look you in the eye and shake your hand
I'm Freedom's Friend
You hide when I go by … but I can hold my head up high
Knowing that the Stars and Stripes still wave
Someday I hope my friend … to get back on my feet again
But you don't have to be afraid
We've got so much more in common
Than I think you really know
Let's share our differences tomorrow
And we won't be strangers anymore
I'm Freedom's Friend … I was there any time or where you needed me
To stand up for my country to defend our liberty
I'm Freedom's Friend … in this chair is the heart of a real American
Proud to look you in the eye and shake your hand
I'm Freedom's Friend
I heard my country's call and when it mattered
I laid my life down on the line
Though my soul was broke and shattered
My heart was in it … all the time…
I'm Freedom's Friend … I was there any time or where you needed me
To stand up for my country when my country needed me
I'm Freedom's Friend … in this chair is the heart of a real American
Proud to look you in the eye and shake your hand
I'm Freedom's Friend
Anytime you needed me
Freedom's Friend
Still proud as I can be
Freedom's Friend … in this chair is the heart of a real American
Can you look me in the eye and shake my hand? Maybe then you'll remember who I am…
Freedom's Friend
---
The idea that one day I could use my talent to help others has finally come to fruition. I was asked by Nevada PVA  if I could write a song and produce a CD to be used as a promotional tool to bring awareness to the needs of our vets. It took almost a year to put the finishing touches on what has become a very touching tune. It was extremely difficult to put myself in the shoes of others that have endured such hardship. It is simply unspeakable how these men and women have suffered and what they now must deal with to just simply function and survive. The effect on their families is also immeasurable. I will be forever grateful to these real Americans for their service to our country.
Jimmy Stowe
KTNV Las Vegas
Jimmy Stowe appeared with Mike Stern (President of the Nevada PVA) on KTNV ABC, channel 13 Las Vegas "Action News Live @9" on May 15th, 2010.
Paralyzed Veterans of America, Nevada Chapter
The Nevada Paralyzed Veterans of America, Inc. is a 501(c)(3) charitable organization dedicated to improving and ensuring the quality of life for American veterans who have suffered spinal cord injury or disease resulting in paralysis. Our purpose is to assist in the fulfillment of the health and well being of our members.

With your donation, you will be helping thousands of brave men and woman who have served their country proudly and fought for our freedom that we enjoy today.